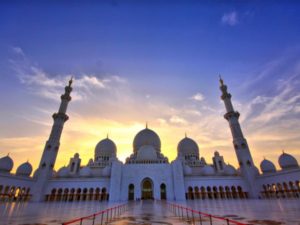 DS Fans,
How would you like to celebrate New Year's Eve 2018 in Dubai?! Sounds exciting? Well cross it off your wish list and join us for a trip of a lifetime to the luxurious destination of Dubai. DS Traveler is proud to host a fully-escorted bucket list group trip to Dubai from December 29, 2017-January 3, 2018! And we've done all the planning for you! This is the perfect opportunity to celebrate New Year's Eve in style with friends, family and spouses!
Land Tour Includes: 
$2309 per person (based on double occupancy) / Add $1200 for single occupancy
•    6 nights in Dubai at Media Rotana or similar 5 stars (by American Standards)
•    Personalized meet & assist upon arrival at the airport
•    Half day Dubai city tour
•    4×4 Desert Safari with BBQ dinner
•    Dhow cruise dinner
•    11 meals: 6 breakfasts, 2 lunches, and 3 dinners
•    New Year's GALA DINNER at luxurious 5 stars hotel in Dubai
•    Full Day Abu Dhabi tour with lunch
•    Round trip transfers from the airport to the hotel and vice versa by a deluxe air conditioned vehicle
•    Daily buffet breakfast at the hotel
•    Local taxes (except Hotel Tax in Dubai only, it will be billed directly to clients $6/night)
* All tours and entrance fees are included.
* All taxes are included and NO HIDDEN FEES
* International Airfare is not included, but we can book it for you at very competitive rates.
* Prices are per person and based on double occupancy. All prices are expressed in US dollars. Prices for vacation packages are subject to change without notice. All travel documents are the responsibility of the passenger. A valid passport with at least 6 months validity after the date of travel is required. Travel insurance is highly recommended.
Reserve your spot early with a $200 deposit through October 31, 2016. Deposit increases to $300 in November. Payment plans available. 
Are you ready? Do you have questions? Send an email to: dstraveler@jonellehenry.com