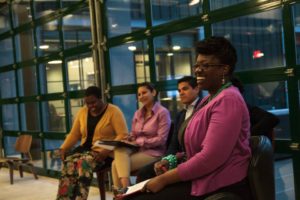 Hey there! Did I tell you how much I love to speak? To engage audiences? To facilitate thought-provoking panel discussions?
I was an inquisitive child growing up. Always asking questions. Always curious. Always talking. Always starting conversations. I pretty much had something to say about everything. I love, LOVE, love connecting people to issues and I love to start conversations. And that love continues through today.
I've had the honor and pleasure of participating in great conversations and facilitating thoughtful panel discussions with candidness, professionalism and humor! I've partnered and worked with a host of organizations and conferences including, but not limited to, the Renew & Revitalize Marriage Conference, Chronic Illness Foundation of America, Busboys & Poets, Blogalicious, For Single Women Only, We Act Radio, Picture Lock, Rosebud Film Festival, and GWU's Women's Leadership Conference.
[smls id="675″]
SPEAKER SERVICES
[contact-form-7 404 "Not Found"]